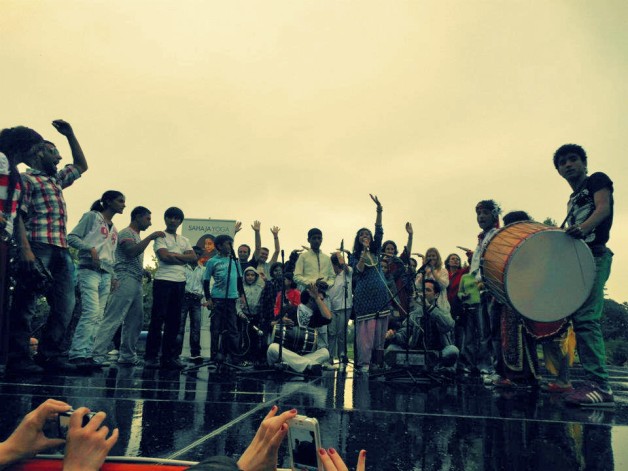 Kakava
accepted as a harbinger of spring festival was celebrated joyfully by the Romani people in western city of Turkey – Edirne on the 5th and 6th of May. Kakava celebration in Edirne took nowadays the form of an international festival, which is also supported by the governor and the mayor of Edirne. The official part of the Kakava festival takes place in Sarayiçi, the place where traditional Kırkpınar oil-wrestling tournament is held each year. After lighting the fire and jumping over it, music playing and dancing is performed. The official part ends after the distribution of rice dish
pilav
to the attendees. The celebration continues in the dawn of the next day at the bank of Tunca River.
From all over Turkey and abroad a total of 5000 people flocked to Edirne. The festival begun with the burning of the huge fire which is almost 5 meters high.
The participants jumped over the fire wishing a good year. During the festival many local music and dance groups performed. Sahaja Yoga music group also performed Jai Ganesh in front of thousands. All the Sahaja Yogis who came to support the program participated at this performance. Such a joy which cannot be expressed in words! Thousands were clapping and dancing! Even the local music groups jumped into the stage to be part of this tremendous joy. Following the bhajan the Self-realization took place. Thousands were enlightened with Mother's Grace.
After the performance the words of a seeker who came from Istanbul and got her Self-realization has clearly showed how Mother's Love is working: "Just before the performence I wrote my wish on a piece of paper and offered to the Tunca River – Oh God, please raise my awareness, please let me reach the enlightenment!"
Enjoy the photos!
http://www.sahajayogaturkey.com/2012/05/international-kakava-festival-mothers-love-is-everywhere/